Please see below for a few quick reminders and time-sensitive information items.
We are looking forward to connecting with parents at the upcoming Learning Conferences. As you know, this year all parent meetings are being offered remotely (either online or via telephone). Please connect with your child's teacher directly if you are needing to set up a meeting to discuss student learning.
All schools have a 3 hour early dismissal on Thursday, Nov. 19th (tomorrow) to allow for learning conferences. At Happy Valley, dismissal will be at 11:28. Buses will also run 3 hours early and will pick up at the school at 12:20.
Yesterday we distributed ordering samples for "ART CARDS". The Art Cards are created by our amazing student artists and are a wonderful keepsake. This is also a PAC fundraiser and we sincerely appreciate your support. Orders are due this Sunday, November 22nd. To order, please go to artcardsbykids.com, using the red code on the back of the card.
Purdy's Chocolate orders are due on Sunday November 22nd. Go to

https://fundraising.purdys.com/1040000-78846

to order now!
If parents have any questions about Art Cards or Purdy's, please email PAC at

HVPAC@hotmail.com

or join the PAC Facebook group at Happy Valley Elementary Parent Advisory Council.
This Friday, November 20th is a Pro D day for all staff. Students are not in session.
The parking lot nearest our playground is reserved for staff only between 7:00 am and 5:00 pm daily. Thank you for using the larger lot when parking at school within these hours.

Thank you to those parents who are wearing masks at school and standing 2 metres apart from our class line ups in the morning. We are relying on our adults to maintain distancing.

In December, Happy Valley will be supporting the "10,000 Tonight" Fundraiser and Food Drive at Royal Bay. Thank you for tucking away those non-perishable food items and donations. More information will be forthcoming!
Thank you for your continued supportive involvement at school.
Sincerely,
Karen Sjerven
Principal
Happy Valley Elementary
Students have been hard at work making incredible winter artwork. Their artwork can be made into greeting cards, plaques, puzzles and Christmas ornaments! Sorry they are no longer able to provide cell phone cases as option. All winter cards were sent home on Tuesday, Nov 17.
Products:
Order greeting cards with a minimum quantity of 8, and then in multiples of 12 thereafter. The more cards ordered, generally the cheaper the per card price. Cards include envelopes, and student name and age is printed on the back of the cards.
If cards are purchased, additional products including plaques, puzzles and ornaments can be ordered. Additional Products cannot be purchased without a minimum 8 card order.
Online ordering only this year (full ordering instructions are included in the inside of the sample card)
Order online and pay by credit card – Visa, Mastercard, Discovery and VisaDebit are accepted
Sorry we are not able to offer manual orders this year due to new school protocols and current circumstances.
Order deadline:
The deadline for Online Orders is midnight Sunday, November 22nd.
Delivery:
Cards (with envelopes), plaques, puzzles and ornaments should arrive Monday, December 7th.
Thank you so much for supporting this incredible annual PAC fundraiser!
Happy Valley PAC
Dear Families,
As we head into the weekend, we want to acknowledge the effort of so many students who participated in our virtual Remembrance Ceremony this week. Thanks to Mrs. K and Mrs. McKenna for creating this opportunity. It was a powerful message for all classes and a moving tribute to our veterans.
Please see below for some safety updates and reminders about the week ahead.
Safe Practices and Protocols
Playgrounds continue to be closed before and after school on regular school days.
Morning arrival and after school pick-up should be as close to bell time as possible. (8:25 am and 2:28 pm)
Children must come directly to their line-ups upon arrival at school.
When adults are escorting children on and off site, please maintain 2 metres physical distancing from other children and cohort line-ups. Thank you for your help as we work on addressing this.
When possible, children are encouraged to come to line ups independently in the morning. (Kindergarten and early primary remain an exception)
While masks are not mandatory at this time, we encourage adults to wear masks at drop off and pick up time.
Thank you to all families for your support as we work to keep our HV school community safe and comfortable for everyone.
Parking Lot Safety Reminders
All children should be using the crosswalks and sidewalks when in the parking lot. Thank you for reminding your child to adhere to safe practices so that we don't have students moving between vehicles.
Bikes and scooters must be walked on and off school property.
IMPORTANT DATES TO NOTE:
Tuesday, Nov. 17th PAC meeting at 6:30 via MS Teams
Thursday, Nov. 19th 3 hour early dismissal at 11:28
Remote Conferences Scheduled (via phone or online) / Please contact teachers directly with questions
Friday, Nov. 20th Pro D Day
Thanks HV Staff & Families
We have an incredible team at Happy Valley. Our staff are working extremely hard to ensure a calm, productive and safe learning environment for all children. We look forward to connecting with parents at the upcoming conferences and to celebrate your child's progress to date. Thank you to our HV families for your valuable involvement in this process.
Enjoy the weekend,
Sincerely,
Karen Sjerven
Principal
Dear Happy Valley Families,
News from PAC: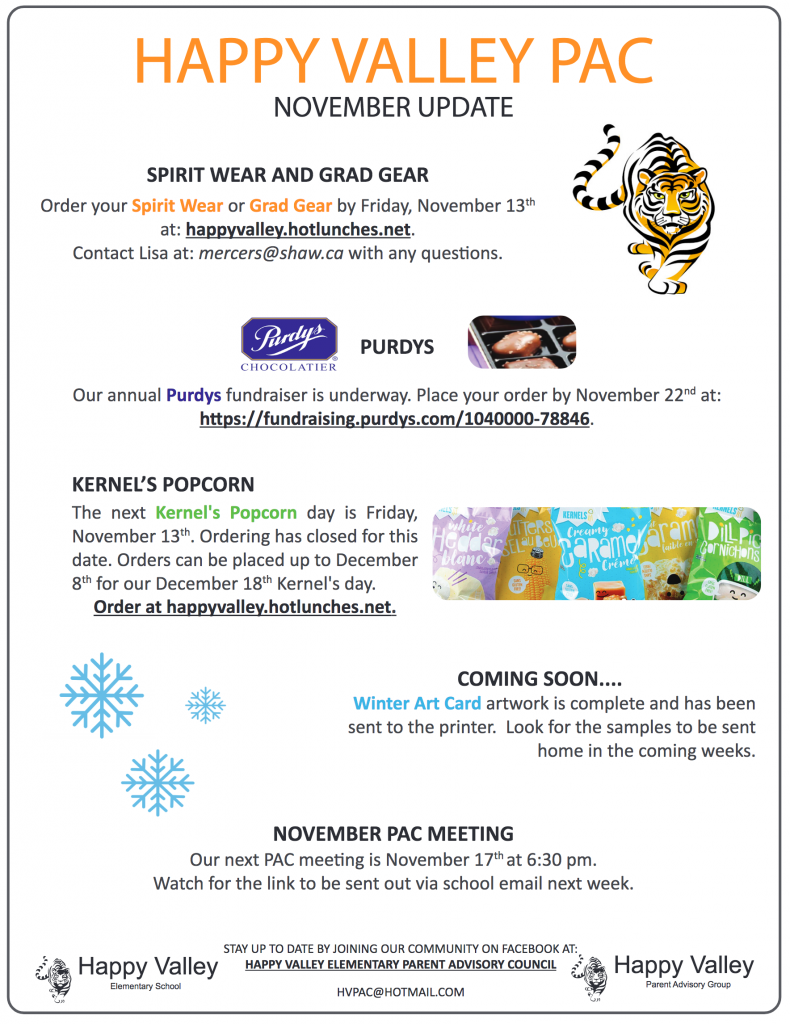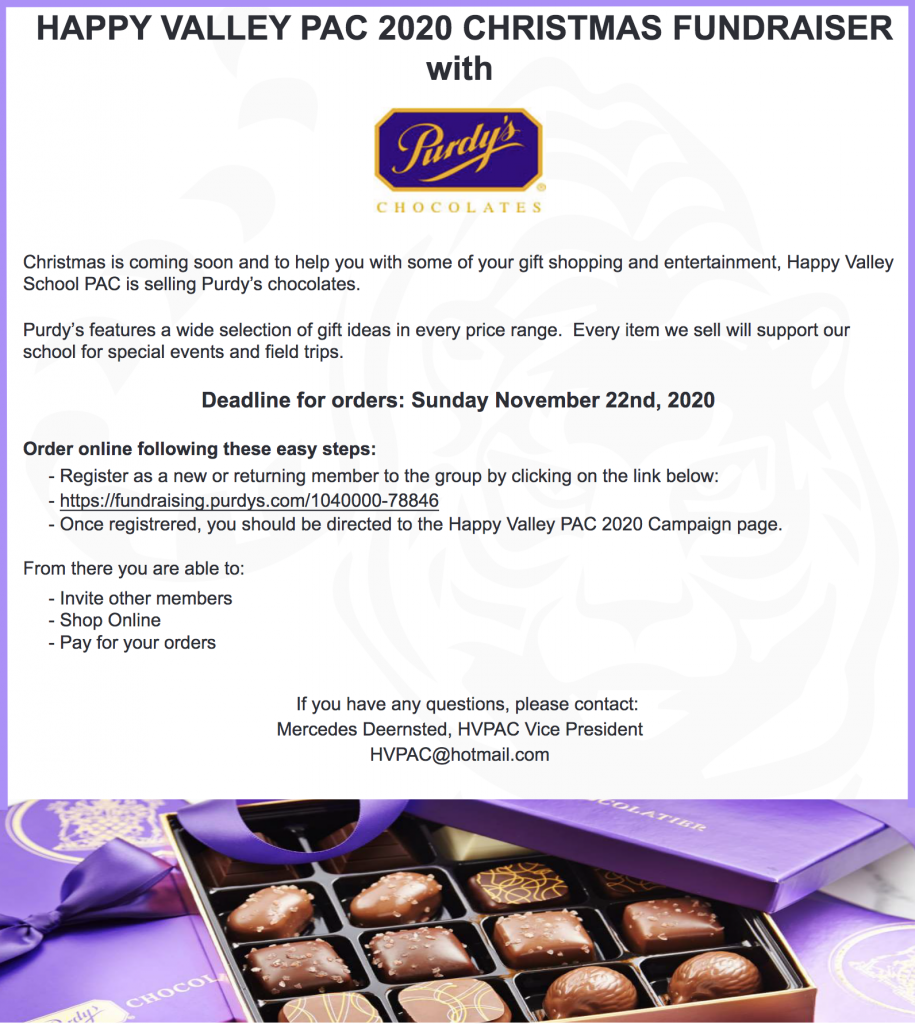 Our annual Purdy's fundraiser has begun! We are excited to be able to offer this great PAC fundraiser again this year. Due to COVID restrictions, we will not be sending Purdy's flyers home and all orders must be submitted online. If you are not able to complete your order online, please reach out to Mercedes at

braunmercedes@gmail.com



All orders must be submitted and paid for online by November 22nd, 2020.
You can click on this Happy Valley Purdys order link to place an order.
The PAC really appreciates everyone's support with this fundraiser. Happy Shopping!
In other school news:
We are looking forward to having a "Remote Remembrance Day Assembly" tomorrow with the children at school. Thank you to Mrs. Kosolofski and Mrs. McKenna for their effort to organize this opportunity.
School is not in session on Wednesday, Nov. 11th (Remembrance Day)

On Thursday, November 12

th

, we are welcoming some of our remote learners back to class at HV! We've missed you.

On Friday, Nov. 13

th

, PAC will be delivering popcorn orders to those students who have ordered Kernels popcorn. Thank you, PAC!

This week, we will be officially welcoming our new secretary, Mrs. Jean Brougham, to HV. Most recently, Mrs. Brougham has been the secretary at Sangster Elementary. We wish Mrs. Brougham all the best in her new assignment.
Thursday, Nov. 19th is a 3-hour early dismissal day for all schools. There will be opportunities for parent conferences (online or by phone) and teachers will have informed parents of their individual class format.
If your child's teacher is doing online sign up for conferences through "School Appointments", you will be able to sign up this Thursday, Nov. 12th

. Please stay tuned for more details and instructions.

Friday, Nov. 20th is a Pro D Day. All staff will be involved in training and students are not in session.
Please mark your calendar for next Tuesday, Nov. 17th for the remote PAC meeting through MS teams. The link is provided below.
Microsoft Teams meeting
Join on your computer or mobile app
Click here to join the meeting
BEST WISHES, MS. LEA!
We are wishing a fond farewell to our wonderful secretary, Ms. Lea. For nearly seven years, Ms. Lea has been a treasured staff member at Happy Valley. She is appreciated by parents, children and staff for her cheerful attitude, her exceptional organizational skills and her ability to do just about everything! We are going to miss Ms. Lea as she moves on to a new job with the District. Ms. Lea will be training new secretaries and sharing her skills. We know that she is a perfect fit for this job and that she will be warmly welcomed. Congratulations on your new assignment and THANK YOU MS. LEA!
REMEMBRANCE DAY – Wednesday, Nov. 11th
Due to current protocols, we are unable to hold our usual whole-school Remembrance Day assembly. Children will be able to view a Remembrance Day presentation within their classrooms to acknowledge this important occasion. Thank you to Mrs. K. and Mrs. McKenna for their work to collaborate on this remote offering for our students.
3 HOUR EARLY DISMISSAL – Thursday, Nov. 19th at 11:28
The 3 hour early dismissal will allow for our Parent Conference opportunities, which will look very different this year. As we are unable to hold parent meetings in person at school, teachers will be having either online meetings OR telephone interviews.
You will soon be receiving information about remote meeting opportunities to conference with your child's teacher. Your child's teacher will be letting you know of their format this week. Please connect directly with your child's teacher with any questions.
Parking & Safety Reminders
We ask that parents stay in their vehicles when in the "through lanes" at pick up and drop off time. The "through lanes" are not for parking after dismissal. If your child is not at the parking lot while your vehicle is in the through lane, we ask that you circle around and re-enter the lot, in order to keep traffic flowing. Bus lanes are out of bounds to all cars. Daycare buses have access to the bus lane, with prior approval from administration. Thank you for your help to keep the parking lot entrance clear so that buses can get through.
Physical Distancing
As you know, children are organized into cohorts of one or two classes while at school. Cohorts include the people who are able to stay in closer proximity during the school day. At drop of and pick up times, we ask that parents continue to ensure children stay with their immediate family or cohort friends. We are encouraging children to have a meeting place with families that allows for some distancing at pick up times. Our playgrounds and outdoor spaces continue to be closed before and after school. Parents are welcome to bring their children to play in the evenings and on weekends.
Overdue Library Books
Please check at home for any stray books that belong in the Happy Valley library. We are still missing several from the Spring, and would love to have them back. Some families should have received overdue notices or requests for reimbursement. Thank you for your help with this.
Playground Access
Our playgrounds continue to be closed both before and after school. We are working hard to maintain the integrity of student cohorts by separating children at all play times. Thank you for your assistance to remind children that families may return to school to play on evenings and weekends.
Site Access During School Hours
Thank you to all of our families for your efforts to drop-off and pick up children as close to bell time as possible. Please wait at the front door for someone to assist you, should you need to come to school during the school day. At this time, our building access remains limited to students and staff only. As always, our elementary school is considered a "closed campus" during school hours. Our outside play spaces are scheduled for cohorts throughout the day, and we are unable to have visitors using the field or playgrounds during school hours.
Lost and Found
This year, we are unable to have our usual Lost and Found collection of clothing and other items. Stray clothing is gathered after our last outside break time and left on the bench outside the office. Classroom items stay within the classrooms. Please have your child check their classrooms or the outside bench for any missing items.
Fall Cold and Flu Season
Thank you to parents for keeping children home when they are sick or feeling unwell. As always, we will call home when children are visibly ill and unable to manage in class, or when children complain of symptoms. While there are distinctions between COVID symptoms and other ailments, we will continue to call parents if children present with illness at school. Please refer to the Daily Health Check on the District website regarding COVID symptoms that would require children to stay home. https://www.sd62.bc.ca/covid-19/resources-parents/daily-health-check At this time, schools do not require documentation from a health professional to return to school. Children are welcome to return when symptoms clear. We appreciate your support with these health protocols so that our students and staff remain healthy.
Staffing Changes at HV as of Oct 2nd
Today, we are officially welcoming Ms. Rebecka Crighton to a part-time position, teaching Grade 4 with Mrs. Leakey. Ms. Crighton has been working at Happy Valley in this role since Ms. Murphy moved to another District position. We are excited to have Ms. Crighton back at HV again this year.
As mentioned last week, Mrs. Kristin Holland has moved into a vice-principal position in the School District. She will be working in a District role to support Kindergarten teachers and remote learning. We look forward to having Mrs. Holland return to Happy Valley as our vice-principal in January, when Mrs. Leakey moves to become principal at Sooke Elementary.
Welcome to Ms. Fiona O'Neal! Ms. O'Neal will be joining us at Happy Valley next week to spend some time with Mrs. Holland and Mrs. Conrad in Kindergarten. We look forward to having Ms. O'Neal join our Kindergarten team full time as Mrs. Holland moves into her new position.
Congratulations Mrs. Leakey!
It was recently announced that Mrs. Krista Leakey has been assigned to become Principal at Sooke Elementary, effective January 1st, 2021. Sooke Elementary's current principal, Mrs. Debra Stoutley, is retiring in December, and Mrs. Leakey has been chosen to move into the principalship. Mrs. Leakey has been our wonderful Vice-Principal and Grade 4 teacher at HV for the past two years, and we are looking forward to continuing to enjoy the next few months of her positive and inspiring leadership at Happy Valley. Students, staff and parents are fortunate to work with Mrs. Leakey, and we know she will be deeply missed when she moves in January. Best wishes from all of us, Mrs. Leakey!
Congratulations Mrs. Holland!
We are thrilled to announce that Mrs. Kristin Holland has been assigned to become Vice-Principal at Happy Valley Elementary, effective January 1st, 2021. In the meantime, Mrs. Holland has just been appointed to a full time Vice Principal position to support the District-wide implementation of Kindergarten instruction for remote learners. This means that Mrs. Holland's Kindergarten position will be posted and filled for the remainder of the school year. We will see Mrs. Holland back at HV in the new year in the part-time role of our Vice Principal. Mrs. Holland is such a special part of Happy Valley and the Kindergarten team and she will be greatly missed in the Kindergarten classroom. We know that she will bring her talents and expertise to her new role in the District and we are fortunate to have her returning to Happy Valley as our Vice Principal on a part-time basis in the new year. Congratulations on your well-earned appointments, Mrs. Holland!
Rainy Days at School
We have had our first rainy play times of the year. Thank you for ensuring your children have clothing for wet outside play (raincoats, boots, hats, umbrellas, extra socks, etc.) It is often helpful to have an extra change of clothes on hand at school, just in case. Our students are always outside with their cohorts playing during their staggered break times. Thanks for your help!
Online Consents and School Cash Online (KEV)
Online consents is a feature that allows parents to give consents for a number of school related topics, including a requirement to adhere to the daily health check. If you were able to access the online consents last year, you will still be able to do so. If you have never attempted to access online consents, we have attached instructions to this email. School Cash Online is another important link to access. This enables school purchases throughout the year (ie- Agendas). School Cash Online is the payment process for most school purchases. Thank you for completing any outstanding consents and for visiting School Cash Online.
PAC News
Thanks to our parents who were able to join us last week for the first online PAC meeting of the year. We appreciate the many ways our PAC supports our entire school community. Our Parent Advisory Council works very hard to ensure each classroom has a budget for supplies, funding for school performances and funds for resources and equipment we all use at school. In addition, our HV PAC has a focus on providing fun and welcoming opportunities for families where possible. Thanks to PAC for creating the wonderful WELCOME sign for the fence to greet our students on the first day of school. We appreciate the ongoing support of our PAC and hope to see you at the next virtual meeting on October 20th at 6:30 pm.
This year, with our current COVID regulations and restrictions, our PAC are unable to provide our usual school Hot Lunch Program. The PAC have investigated some alternate opportunities that provide students with an opportunity for a treat. You will soon be receiving information about upcoming sales of pre-packaged popcorn through Kernels. Thanks to PAC for their efforts to sustain safe practices amidst challenging new circumstances.
Our Giving Community
Last spring our PAC wanted to find a way to help community members in need. They decided to donate funds to the Goldstream Food Bank. Funds came from proceeds from our Pink Shirt sales, various community donations, and some hot lunch profit. In total, $1,055 was raised through the PAC efforts. We then had a very generous offer from Urban Systems Foundation to match our funds! This resulted in a donation of $2110 to the Goldstream Food Bank from our school and community. Way to go, Happy Valley! Thank you PAC!
Student Illness
Thank you for doing a daily health check for your children prior to sending them to school. The Health Checklist is available on the District website for your reference. If children display any symptoms of illness (cough, congestion, sore throat, runny nose, nausea, fever) they must stay home until all symptoms have cleared. We will be calling home for children to be picked up if children become unwell at school. Thank you for your support of our revised health protocols.
Parking Reminders
Our parking spaces are limited and the staff lot is already over capacity with our growing population. We also have some students and families requiring accessible parking spaces. Thanks for adhering to local bylaws regarding parking on private properties. We appreciate the effort parents are making to walk or park safely off-site where possible.
Parents and Visitors to HV
Thanks to parents for encouraging children to go directly to their line-ups in the morning. We are attempting to limit the number of people interacting with cohort groupings, and appreciate the effort parents are making to maintain physical distancing. At this time, parents and visitors are not able to enter our schools. Thank you for waiting outside the entrance to the office and giving us a wave at the window if you are needing assistance.
Students Being Picked Up Early
Sometimes, there are circumstances when students must be picked up early from school. These include family emergencies, medical specialist appointments, dentist, etc. When possible, parents are asked to email their child's teacher the evening before the appointment, to ensure the message is received. Teachers are unable to attend to their email within the school day as they are working with the students. When teachers know of the absence, they will be able to have children ready for pick up outside the office. Children will be waiting at the purple bench until parents arrive at the front doors. We will escort children outside the front door to meet their parents.
MyEd and Parent Portal
Last year, some families accessed MyEd after it was first introduced at Elementary Schools in November. Among other things, MyEd is used to track student attendance and to update student contact information. If you were able to access MyEd last year, the process remains the same. If you have not yet accessed MyEd, we will be sending information in the coming weeks to assist families. At this time, there is no immediate urgency in accessing MyEd at the Elementary level. Thank you for your patience with this process.
"Litterless Lunches"
In an effort to reduce the amount of garbage and recycling in the school, we ask that families attempt to send water bottles (no glass) and re-useable containers for food items. Children are being reminded to take home any leftover food and wrappers. We are not able to continue our school recycling program while COVID 19 protocols are in place. Thank you for your assistance.
The transportation department has now opened bus registration for the 2020-2021 School Year on the Sooke District 62 website.
Please note:
· You do need to complete the bus form *(even if you have already been using the service)
· You will need your child's Pupil# to register for the bus. You will find the Pupil# in the Parent Portal in MyED. I have attached both the letter previously sent to families from the Board Office on November 4th, 2019 and also the directions on how to access the Parent Portal.
Happy Valley School's website has a Parent Portal off the Parents Tab.
District Letter to Parents – Family Portal Launch – Elementary Launch November 4 2019.pdf
SD#62 – MyEdBC Family Portal Instructional Manual.pdf
We also recommend registering using a computer – not a cell phone.
Bus Routes Notification
Bus routes for the 2020-21 school year have been created. Students will be placed on routes as per the address provided during registration. Registrations received by June 30, will receive route schedules via email by mid-summer.
Routes will be posted just prior to route schedules being sent out.
Thank you,
Administration