As anticipated, we have received many new registrations at Happy Valley for in-catchment students in Kindergarten-Grade 5 for next September. At this time, we are still in the process of working collaboratively with the School District office to confirm student enrollment and space needed at neighbourhood schools. We are following the District's student enrolment priorities process. This information can be referenced at www.sd62.bc.ca/schools/registration/student-enrolment-priorities
All families who registered students for Kindergarten at Happy Valley will be sent an update from SD#62 in April. Thank you very much for your patience with this process.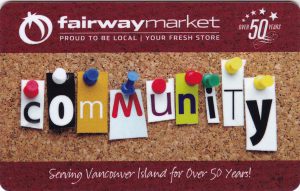 Fairway cards are now available from Happy Valley PAC.
Take the card and pre-load it up at Fairways to whatever amount you want. It can be reloaded many times.
Just make sure your card is loaded with funds before making a purchase.
For every $20 spent…PAC will get $1!
To get a card…email PAC to make an arrangement for pick up of a card.