Thank you for returning the Verification forms that were sent home with each of your children. The School District has recently created an "Online Consent Portal" which enables parents to give permission for many school-related activities (ie; Field trips, internet use, Fresh Grade etc.) There is also a "School Cash On-line" system which is mainly used at the Middle and Secondary level for fees and athletics. (Please note: This is not used for PAC funds).
Please see the attached information to complete the online consents for your children.
User Guide 3
Thank you for your attention to this new procedure.
Sincerely,
Karen Sjerven
Principal
Happy Valley Elementary
Happy Valley got visited by Santa!…via BC transit. All donations will be going to the Westshore Foodbank.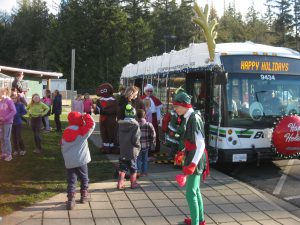 Thank you to our school community who spent a total of $5500, which resulted in a profit of $3300 for our school.  The profit was used to pay for $600 of books for our library (photo below), $190 for the Golden Tickets, so one student per class could choose a book of their choice and $700 to supplement classroom libraries.  We still have $1500 left to purchase books to support the new curriculum and to fill other library needs.  A huge thank you goes out to our PAC parents and other parents who volunteered their time to make the book fair a huge success!