HV Newsletter – October 21 2019
Dear Parents,
Please see the attached newsletter about school happenings.
We are in need of volunteers for the Halloween Dance on Tuesday, October 29. If you are volunteering for the entire length of the dance, please signup for the available timeslots and email HVPAC@hotmail.com and we will provide you with a complimentary dance ticket.
We will also be accepting donations of baked good & small candy bags for our dance bake sale. All donations can be dropped off before school on October 29. If you would like to donate but are unable to bring it to school, please email HVPAC@hotmail.com and we will try to make alternate arrangements.
Ticket orders for the dance are due this Thursday, Oct. 24th.
Friday, October 25th is a province-wide Professional Day for teachers. The school will be closed that day.
Thank you for the many ways you support your children to be successful at school. We value your involvement!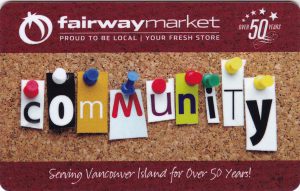 Fairway cards are now available from Happy Valley PAC.
Take the card and pre-load it up at Fairways to whatever amount you want. It can be reloaded many times.
Just make sure your card is loaded with funds before making a purchase.
For every $20 spent…PAC will get $1!
To get a card…email PAC to make an arrangement for pick up of a card.