August 28, 2023
Welcome Back to School!
On Tuesday, September 5th, 2023 we will be welcoming Happy Valley students back for another
exciting year of learning and fun. The floors are shiny and the school is sparkling clean. Teachers
have been setting up their classrooms and preparing for the students to return. We are full to the
brim in our 19 divisions this year.
The school bell schedule will be slightly different this year as the warning bell rings at 8:35 am
and instruction starts at 8:40 am, students will enjoy recess from 10:13 to 10:28, eat lunch in
classrooms with teachers present and then head outside for lunch recess (grades K-2 from 11:48-
12:28 and grades 3-5 from 12:28-1:08). The end of the day bell will ring at 2:28 p.m. for
dismissal.
Our first day Tuesday, September 5 will begin at 8:40am for students in grades 1-5. Students will
join their teacher from last year. Please ask your child to line up in the same spot as last year
when the bell rings. The first day will end at 11:28 a.m. and students will only need to bring a
snack that day as we will not be in session for lunch. Wednesday, September 6th is the first full
day of class and students will need both a snack and a lunch.
Students will return to their last year's class for the first couple of days and should be in their
new classrooms by Friday. Please send your child with school supplies on Friday. School supply
lists can be located on the website under the student tab.
We will continue to use our website and the Happy Tigers 2 Go app to keep families informed about
Happy Valley events and happenings. You can download the Happy Tigers 2 Go app from the app store
for free and allow it to send push notifications to your phone. https://happyvalley.appazur.com/#//
You can get a head start on the September school paperwork by finding our district consent forms
online. These forms can be signed online at https://consent.sd62.bc.ca/apps/OnlineConsent
Enjoy the last few days of family time and summer days! We look forward to seeing you next week!
Sincerely,
Kendra Laidlaw
Principal
Dear families,
We hope you are enjoying a great start to the summer break! Our school offices are now closed for the summer and will reopen on Monday, August 28th at 8:00 am.
Back to School
The first half day of school for students in Grades 1-5 is Tuesday, September 5th from 8:40 am-11:28 am. Students are asked to return to last year's class line-ups as they will be spending the first days of the new school year with their previous classes. This is our long-standing District-wide practice as we work to ensure all new registrations have seats in our District schools. Students will be met at their line-ups by members of the Happy Valley staff. This year we have a few new staff, so students will not necessarily be meeting their previous teacher.
Once the District gives schools approval to move to our new classes (typically within the first week), children will be introduced to their new teachers for the coming school year. Unfortunately, we are unable to take any requests regarding student placements. Please refer to the Student Placement Policy sent to families in May of 2023 for further information about the complex work of class configurations and the many considerations involved. At this time, Happy Valley has several in-catchment students at every grade level who have been accommodated at other District schools. We expect to continue to have new registrations arrive throughout the summer as more families move into the community.
New Students
Children who are new to Happy Valley are asked to bring a parent to meet some of our staff in the gym at 8:40 for a welcome and introduction to Happy Valley. We anticipate over 40 new children arriving in Grades 1-5 on the first day. Following the welcome, these students will be met by various HV staff and some student leaders. New students will be working in multi-aged groupings with a variety of HV staff until students are moved to new classes. These students may be met by parents for after-school pick-up at the picnic tables.
School Supplies
Students will not need to bring their school supplies for the first morning of school. If your family has ordered Monk supplies through the PAC fundraiser, orders will be delivered to your child's new classroom. Please see the Happy Valley website for ordering information if you still wish to participate. The deadline for online orders is July 19th. A supply list for all grades is also available on the website, should you prefer to purchase supplies on your own.
Students should bring a recess snack on the first day of school and be prepared to play outside in all weather.
First Week Schedule
The first full day of school for children in Grades 1-5 is Wednesday, September 6th. Next year, the first bell will ring at 8:35 for an 8:40 start. Dismissal is at 2:28. We ask that children head directly to line-ups upon arriving at school.
Welcome Kindergarten!
Our 60 new Kindergarten children will be joining us for their "Gradual Entry" on Monday, September 11th. Kindergarten children will attend alternating half-days on Monday, September 11th and Tuesday, September 12th. Wednesday, September 13th is the first full day of Kindergarten. All Kindergarten families will have received an email today with their child's individual schedules.
Thank you!
As we finish this school year, I would like to thank the Happy Valley School community for your kindness and support throughout the past six years I have been principal at Happy Valley. It has been a true pleasure to work with your children in the same elementary school that I once attended as a child! I appreciated all of the warm wishes, personal letters and the special farewell song from the students on the last day of school. I will deeply miss the HV kids and staff as I move to Hans Helgesen and know that our incoming principal, Ms. Kendra Laidlaw, will be an incredible addition to the Happy Valley Staff.
Congratulations to all of our HV students for their efforts as keen learners, kind friends and responsible citizens!
Have a safe and happy summer!
Sincerely,
Karen Sjerven
Principal
Happy Valley Elementary
Hello Happy Valley Parents,
It's that time of year again and Monk School Supplies Fundraiser is now open.
School supply kits are now available to be ordered through Monk Office Supplies for the 2023-2024 school year.
To place an order visit: bts.monk.ca
Our school code is: 2C8604
Deadline: July 19, 2023 – to be guaranteed delivery to our school before September
Sincerely,
Happy Valley PAC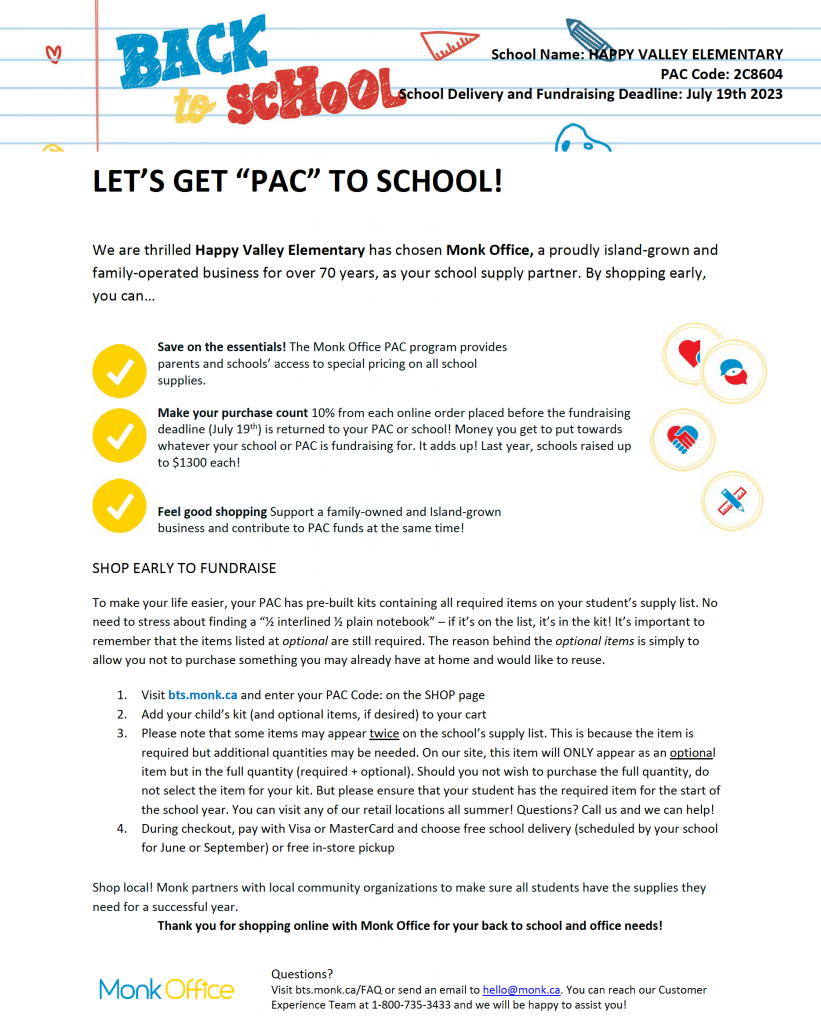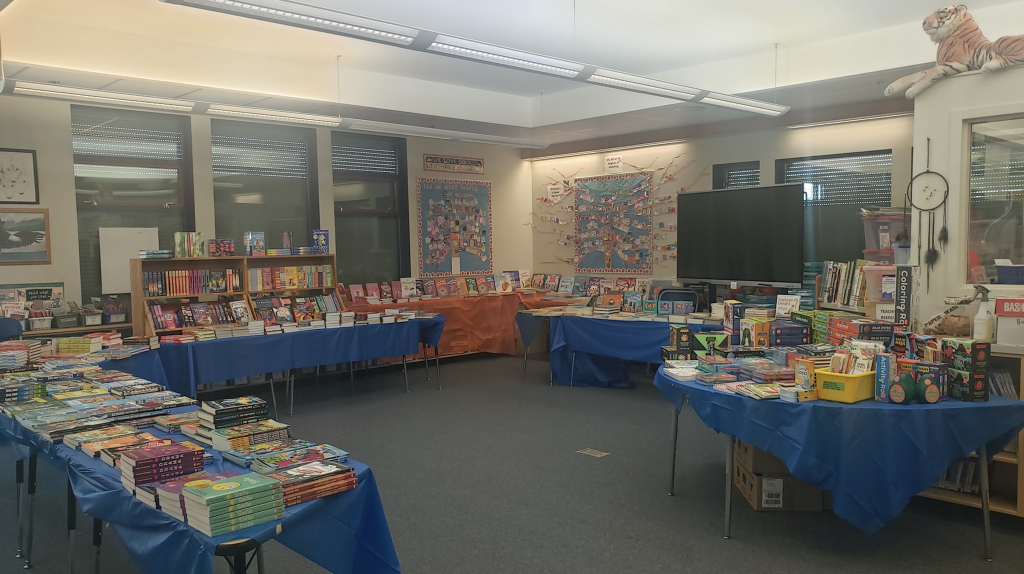 We did extremely well at our book fair. With just over $6000 of sales over four days, we are by far the top sellers for Russell's book fairs! Russell Books gives schools 30% of book fair sales, meaning that we earned $1810 store credit at Russell's for our school library. Furthermore, they gave us a $500 bonus from the Books for Schools Program. We are so lucky to have such a supportive school community! Thank you so much to all of our parent, staff and student volunteers who went above and beyond to make our fair successful, and thank you so much to everyone who purchased books and other items to support literacy and our library
| | |
| --- | --- |
| Becca, winner of Terry Fox t-shirt | Becca with Ms. Roberts, Terry Fox organizer for Happy Valley School |