Dear Families,
We are in the midst of a number of special events this week. Here are some newsworthy items to note.
Orange Shirt Day – Wednesday, September 29th
It is wonderful to see so many Orange Shirts at Happy Valley today. We acknowledge the many Indigenous children who attended Residential Schools and did not return home. Our school community continues to work together on important learning about Indigenous history and culture. Thursday, September 30th has been declared a National Day to Acknowledge Truth and Reconciliation. Students will not be in session.
Tour de Rock "Drive By" – Wednesday, September 29th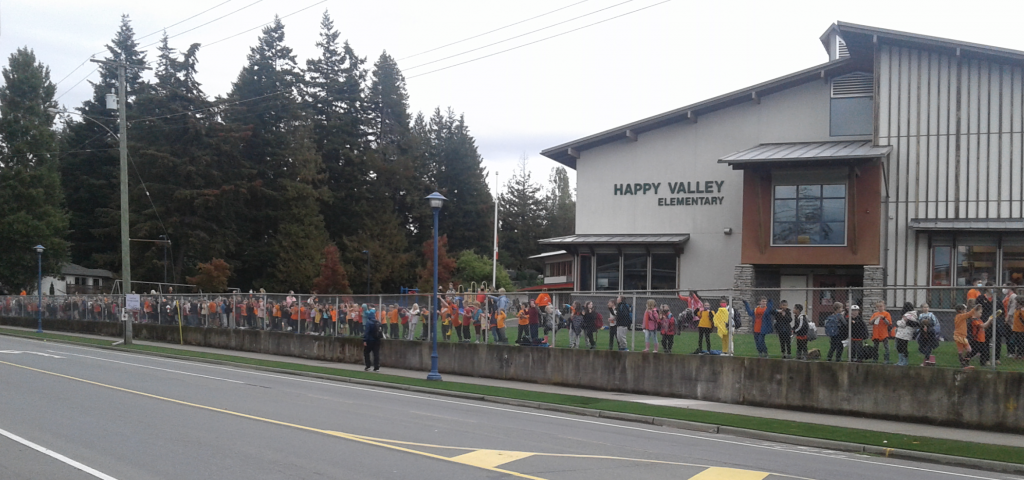 We are looking forward to cheering on the riders in the "Tour de Rock" as they drive past our school this afternoon at 2:08 pm. Many classes will be lined up along the fence to show support as the riders near the end of their ride down the Island. Neighbours will have a great view from the sidewalks along Happy Valley road. We anticipate the parking lot will be particularly busy at this time, and we encourage families to walk if possible. Thank you!
Terry Fox Run- Friday, October 1st
We are amazed at the fundraising that Happy Valley has done this month to support the Terry Fox Foundation. Every year, we remember Terry's courage and determination to fundraise to find a cure for cancer. We are excited to participate in the run and honour Terry's legacy. Students will be watching a short video on Friday and heading out for a run in the afternoon. Classes will follow different routes (on the field, on the school site or on the Galloping Goose). We will also have the "Jar of Hope" at the entrance to the gym. Students are invited to bring in a "Toonie for Terry" to add to our fundraising efforts. Happy Valley families have already raised $3000 in online donations! Please bring in your pledge forms and any cash donations on Friday. Thank you for your generous support for such an important cause! Big thanks to Ms. Roberts and Mr. Johnson for expertly orchestrating this annual event!
Parking Update
As you know, parking is extremely limited at Happy Valley. Given the size of our school, there is a need for staff to have additional reserved parking in the large lot every day. Thank you for not parking in any marked spaces.
At this time, we have very few spaces available for accessible parking. This year, several of our students have mobility issues and rely on these spaces daily. If you are needing to use one of these marked stalls, please ensure you have a valid placard and that it is visible. We sincerely appreciate your help.
Bus Schedule Changes
Our bus schedule has changed again this week. The earlier afternoon departure time will be beneficial to our students. Please note that this means buses will now be on-site for pick-up at the end of the school day. We are reminding parents to keep the driveway clear so that buses can enter the bus lane. As always, we ask that you do not leave your vehicle parked in the drive aisles.
Supervision at School
Morning supervision for all students starts at 8:10. Please do not bring children to school earlier than 8:10. Children who arrive at school on the early bus have separate supervision. If your child is an occasional rider and does not arrive with the morning bus, they are not part of the early supervision that day and should not be dropped off prior to 8:10. Thank you for helping with this important student safety issue.
Did You Miss Photo Day?
There will be an opportunity for photo retakes later this fall. Stay tuned for details!
Health and Safety
We are continuing to adhere to the mandate of the Public Health Officer with regard to COVID-19 protocols. Mask wearing is strongly encouraged in Kindergarten – Grade 3. It is an expectation in Grades 4 & 5 that children wear masks indoors. When we have students in combined Grade 3 and 4 classes, consistency with mask wearing is encouraged by the District. Some exceptions apply. Frequent handwashing in all classes is continuing. The students are doing an incredible job of remembering these health and safety guidelines!
In order to keep our schools healthy, students are expected to stay home when sick. If a child is unwell at school, we will be calling parents to pick up. Early colds and flu have started and we appreciate the effort families are making to ensure kids are well when they return to school.
Thank you PAC
At last week's meeting, the PAC approved a generous budget to support the students at Happy Valley. Classroom funds have been allocated to allow teachers to purchase resources, supplies and specialty items for classes. This also includes funding for unique opportunities for presenters and special events. Our amazing PAC provides funds for our library, music programs, counselling resources, gym equipment, technology and more. This year, we are looking forward to our Hot Lunch opportunities and Popcorn Days. Thank you to all of the hard working members of our Parent Advisory Council who make these special opportunities happen for kids!
Best Wishes, Ms. Therrien!
We are wishing Ms. Therrien well as she prepares for the arrival of her baby in October! We appreciate Ms. Therrien's work with so many students at Happy Valley and know that she will be a wonderful ( and fun) mom! Thank you Ms. Therrien! We are all excited for you!
Welcome Ms. Milne
Ms. Milne is joining the Happy Valley staff while Ms. Therrien is on Maternity Leave. We are appreciative that Ms. Milne has already spent some time working with Ms. Therrien and the class. Welcome to HV, Ms. Milne! We are happy you are here.
Sincerely,
Karen Sjerven