The transportation department has now opened bus registration for the 2020-2021 School Year on the Sooke District 62 website.
Please note:
· You do need to complete the bus form *(even if you have already been using the service)
· You will need your child's Pupil# to register for the bus. You will find the Pupil# in the Parent Portal in MyED. I have attached both the letter previously sent to families from the Board Office on November 4th, 2019 and also the directions on how to access the Parent Portal.
Happy Valley School's website has a Parent Portal off the Parents Tab.
District Letter to Parents – Family Portal Launch – Elementary Launch November 4 2019.pdf
SD#62 – MyEdBC Family Portal Instructional Manual.pdf
We also recommend registering using a computer – not a cell phone.
Bus Routes Notification
Bus routes for the 2020-21 school year have been created. Students will be placed on routes as per the address provided during registration. Registrations received by June 30, will receive route schedules via email by mid-summer.
Routes will be posted just prior to route schedules being sent out.
Thank you,
Administration
Dear Families,
This update is being sent to all families who originally registered their children for Kindergarten as part of the Happy Valley catchment. Please note that many of you have had your School Change Requests previously accepted and confirmed. Others have School Change Requests that continue to be pending at this time. Based upon School Change Requests, we have contacted principals to let them know of enrolment at Happy Valley. Principals will determine the outcome of remaining School Change Requests, based upon available Kindergarten spaces in their schools.
We have confirmed placement of 60 Kindergarten children joining us at Happy Valley Elementary. This includes 34 siblings and the next 26 registrations. As noted in the last newsletter, the time stamps indicated that all parents made an incredible effort to register immediately once the District's online process began. There were 84 registrations within the first minute of opening, and the rest followed in quick succession. All 124 Kindergarten children have now been placed in schools, according to our District Enrolment priorities. https:www.sd62.bc.ca/schools/registration/student-enrolment-priorities
We have 40 Kindergarten children who will be joining the Wishart Elementary School community. Within this group, we realize that there are a few School Change Requests still pending.
Since Wishart is now at capacity, our overflow school becomes David Cameron. We currently have 8 Kindergarten children who will be joining the David Cameron Elementary school community. Any future Kindergarten registrations for Happy Valley will be directed to David Cameron.
We have several families who made School Change Requests for a variety of schools. These include: Hans Helgesen, John Stubbs, Crystal View, Sangster, Colwood and Willway. A few families have moved out of our School District.
Several parents have inquired about waitlists, transportation and daycare options.
Happy Valley will retain the time-stamped lists of all in-catchment registrations for the duration of the 2020-2021 school year. Should spaces open up in Kindergarten at Happy Valley over the course of the next school year, we will call families in chronological order to offer available space. This list will not be carried over into your child's Grade 1 year. Families who wish to register their child at Happy Valley for Grade 1 must follow the same registration process as happened this year. Registration Week will happen during the last week of January, 2021.
Questions around transportation and daycare can be fielded by your school principal. You will be directed to the transportation link on the District website to register your child for the bus. Busing is still being organized at this time. Daycare opportunities will differ at each school site. These are private daycares and parents must register independently.
All future Kindergarten correspondence will come from your school principals. Thank you for your kind support throughout this lengthy process. Kindergarten is such a special time for children and their families. Have a memorable year ahead in SD#62!
Sincerely,
Mrs. Karen Sjerven
Principal, Happy Valley Elementary
As anticipated, we have received many new registrations at Happy Valley for in-catchment students in Kindergarten-Grade 5 for next September. At this time, we are still in the process of working collaboratively with the School District office to confirm student enrollment and space needed at neighbourhood schools. We are following the District's student enrolment priorities process. This information can be referenced at www.sd62.bc.ca/schools/registration/student-enrolment-priorities
All families who registered students for Kindergarten at Happy Valley will be sent an update from SD#62 in April. Thank you very much for your patience with this process.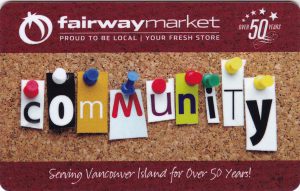 Fairway cards are now available from Happy Valley PAC.
Take the card and pre-load it up at Fairways to whatever amount you want. It can be reloaded many times.
Just make sure your card is loaded with funds before making a purchase.
For every $20 spent…PAC will get $1!
To get a card…email PAC to make an arrangement for pick up of a card.