Dear Happy Valley Families,
News from PAC: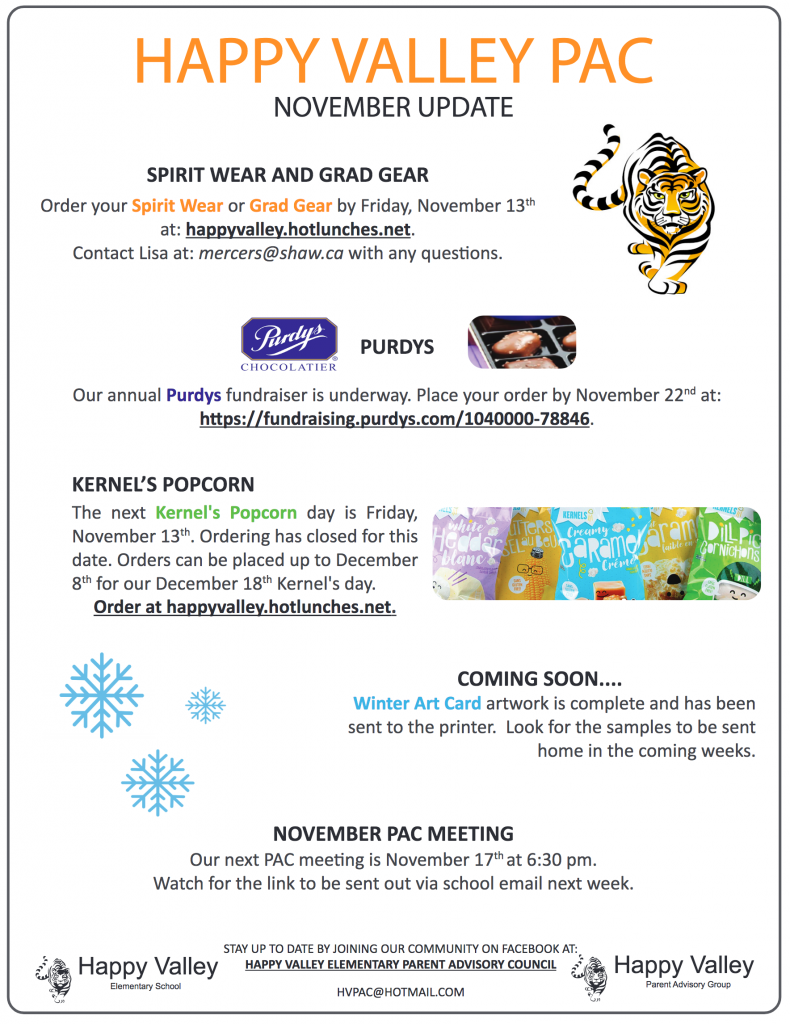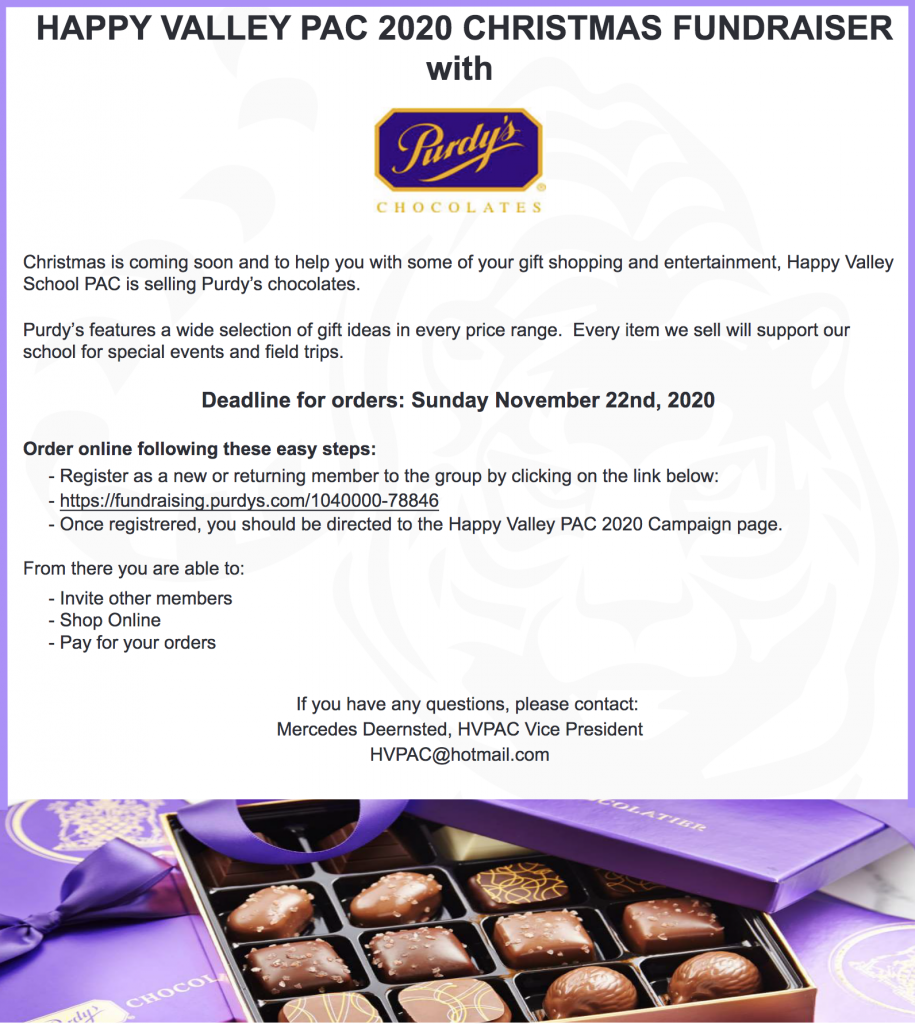 Our annual Purdy's fundraiser has begun! We are excited to be able to offer this great PAC fundraiser again this year. Due to COVID restrictions, we will not be sending Purdy's flyers home and all orders must be submitted online. If you are not able to complete your order online, please reach out to Mercedes at

braunmercedes@gmail.com



All orders must be submitted and paid for online by November 22nd, 2020.
You can click on this Happy Valley Purdys order link to place an order.
The PAC really appreciates everyone's support with this fundraiser. Happy Shopping!
In other school news:
We are looking forward to having a "Remote Remembrance Day Assembly" tomorrow with the children at school. Thank you to Mrs. Kosolofski and Mrs. McKenna for their effort to organize this opportunity.
School is not in session on Wednesday, Nov. 11th (Remembrance Day)

On Thursday, November 12

th

, we are welcoming some of our remote learners back to class at HV! We've missed you.

On Friday, Nov. 13

th

, PAC will be delivering popcorn orders to those students who have ordered Kernels popcorn. Thank you, PAC!

This week, we will be officially welcoming our new secretary, Mrs. Jean Brougham, to HV. Most recently, Mrs. Brougham has been the secretary at Sangster Elementary. We wish Mrs. Brougham all the best in her new assignment.
Thursday, Nov. 19th is a 3-hour early dismissal day for all schools. There will be opportunities for parent conferences (online or by phone) and teachers will have informed parents of their individual class format.
If your child's teacher is doing online sign up for conferences through "School Appointments", you will be able to sign up this Thursday, Nov. 12th

. Please stay tuned for more details and instructions.

Friday, Nov. 20th is a Pro D Day. All staff will be involved in training and students are not in session.
Please mark your calendar for next Tuesday, Nov. 17th for the remote PAC meeting through MS teams. The link is provided below.
Microsoft Teams meeting
Join on your computer or mobile app
Click here to join the meeting